Angaben gem. § 5 TMG: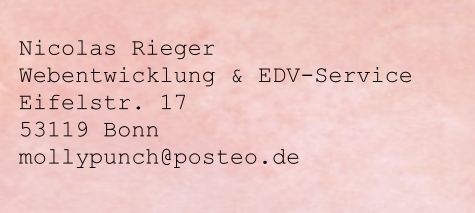 Zum Datenschutz /
Regarding privacy:
Zuerst einmal: Hier kannst du deine Einwilligung widerrufen, externe Inhalte (Bandcamp, Instagram etc.) laden zu lasen.
First of all, here you can revoke your consent to load embedded external content (Bandcamp, Instagram etc.):
Cookies/embedded contents are deactivated
Activate cookies/embedded contents by clicking "Activate" in the cookie banner.
Und ausführlich:
Beim Besuch dieser Website kommen keine Cookies zum Einsatz außer einem, das sich merkt, dass du dem Laden externer Inhalte zugestimmt hast. Keine Session-Cookies, keine langlebigen Tracking-Cookies – das ist wirklich das einzige. Wenn du oben auf "Revoke" klickst, wird es sofort gelöscht, und ansonsten hat es eine Gültigkeitsdauer von einem Monat.
Wir benutzen kein Google Analytics oder sonstige Statistik-Tools, auch keine lokal gehosteten.
Alle Webfonts, Skripte, Stylesheets etc. werden nicht von externen Servern/CDNs geladen, sondern vom selben, auf dem diese Website läuft.
Es werden auf einigen Seiten Inhalte von Bandcamp, Instagram oder Facebook eingebunden – leider setzen diese Seiten Cookies, und ohne diese Plattformen geht's halt auch nicht. Wir hoffen, dass sie ihrem Wort treu sind, die Session-Cookies allerhöchstens zu nutzen, wenn ihr gerade dort eingeloggt seid. Social-Sharing-Buttons, die euch darüber hinaus tracken können, kommen aber nicht zum Einsatz.
Der Webserver speichert im Hintergrund aus technischen Gründen in Logfiles, welche Seiten wann von welcher IP-Adresse und mit welchem Browser aufgerufen wurden. Diese Daten werden unter keinen Umständen von uns ausgewertet, wir sehen sie uns nicht einmal an und verknüpfen sie erst recht nicht mit irgendwelchen anderen Daten – welchen auch? 🙂
Kurzum: Wir freuen uns, dass ihr unsere Website besucht, aber wir möchten vollkommen euch überlassen, was ihr uns gegenüber von euch preisgebt, und das stellen wir technisch auch so sicher, wie es nur geht.
All the details:
When you visit this website, no cookies are set except one that remembers your choice to accept loading external contents. No session cookies, no long-living tracking cookies – the consent cookie really is the only one. If you click "Revoke" above, it will be deleted immediately. Otherwise, it has a lifetime of one month.
We don't use Google Analytics or any other statistic tools, not even self-hosted ones.
All webfonts, scripts, stylesheets etc. aren't loaded from external servers/CDNs but from the one on which this website runs.
On some pages, content from Bandcamp, Instagram or Facebook is embedded. Sadly, they use cookies, but we need to use those platforms. We hope they stay true to their word to use their session cookies only when you're logged in on their platforms. Social sharing buttons aren't used anywhere.
The webserver running this page logs when which page is loaded from which IP address with which broser. We don't work with this data, we don't process it, we don't even look at it, and we surely don't connect it with any other data – which would that be anyway? 🙂
Long story short: We're happy that you visit our website, but we want you to decide entirely what you want to share with us, and we implement all technical measures to ensure that as much as possible.